Real High Tea
The Revolution for the 21st century afternoon Tea
The tradition of afternoon High Tea is said to have begun in the 18th Century, aided by Anna Maria Stanhope, Duchess of Bedford who invited friends to tea with cakes and pastries at 5 o'clock. The modern interpretation of Afternoon Tea is compromised by an over emphasis on food, forgetting the central element- tea.
It all started with a desire to offer tea to a new generation. Tea with style, substance and natural goodness. We chose to transform the world's tea ceremony – afternoon tea. The most popular global tea drinking occasion, so clearly defined by 18th Century tradition, more than two centuries later. The Dilmah Real High Tea Challenge stirred up the world of tea. Tea is luxury. Tea is indulgence. Tea is without parallel. It was clear that there is no better way to express the diversity, subtle influence of nature on taste, flavour, fragrance, character of tea than through gastronomy.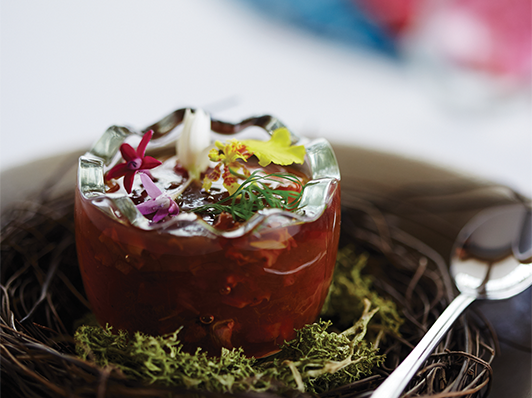 The Dilmah Real High Tea Challenge has shared the word on the natural goodness, serenity and luxurious indulgence in tea with the world, at Challenges from Paris to Perth, Auckland to Amsterdam. Our high tea competitions are all exceptional – pioneers in reimagining the experience of the world's most popular beverage after water. Together we are creating history as we bring tea into the 21st Century, and its sublime, natural goodness and pleasure with a new generation.
Dilmah pioneered the concept of a Real High Tea Competition in 2007 to challenge chefs and tea aficionados to understand tea, its variety and the limitless possibilities in tea gastronomy and tea mixology. Dilmah Real High Tea is a contemporary approach to redefining the 21st Century High Tea and to enhance the importance of Tea as an ingredient and as a pairing within Gastronomy. The simple objective is to put the central theme, central component 'Tea' back in High Tea with authenticity and quality.
"what is very interesting when you see how Dilmah has pushed the boundaries of tea they are pushing the boundaries in similar ways to how wine has been approached with different origins, different heights, different flavours - it becomes very interesting to see how that can marry not only in cooking but also used as a pairing to food like you do in wine, so it is a great experience actually, it's a huge eye opener!"
Ragnar Fridriksson Managing Director of WACS