01. TEAM ENTRY & SET UP
The Tea Inspiration for 21st century is open to professional culinary teams from hotel, resort, restaurants and culinary schools
A team should
consist of 2 people
- chef and food & beverage person
The Challenge Categories

02. TEA & FOOD PRESENTATION
3 Teas as a Dessert Beverage X 4 Servings
3 Teas in a dessert X 4 Servings
3 Teas Paired with a Dessert X 4 Servings
Total 36 Items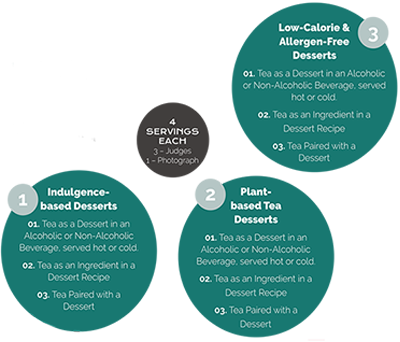 IMPORTANT POINTS TO REMEMBER
The food must be pre-prepared and brought to the venue.
Only plating, heating and garnishing is allowed at the venue. (food items should be served in the expected condition – hot, warm or cold).
Brewing hot tea and the making of dessert beverages should be done in front of the judges. Including mixing / shaking. (Teas for cold beverages can be brewed before and brought to the venue)
03. MISE EN PLACE
These items are to be brought in pre-prepared*and ready to serve. Hot items to be served hot / warm, cold items to be served cold.
All 3 food items need to be different from each other.
Emphasis on the tea is paramount. Tea should be the highlight of your menu at all times
Last minute kitchen facilities will be available for chilling, heating and plating.
You will also be provided with an ice making machine
Kitchen judge will be present during mise en place
Kitchen access will be given for the film crew during mise en place
Tea station table with spring water and Dilmah samovars for brewing tea will be available
04. TABLE PRESENTATION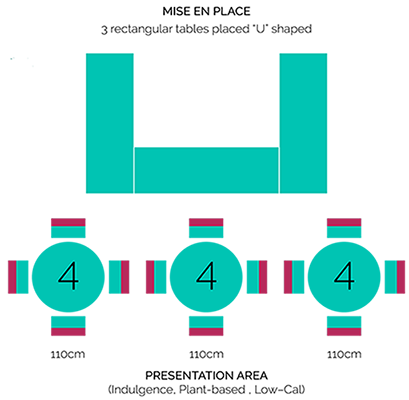 05. YOUR LITERATURE
Menu – a copy of your menu to be presented to each of the 3 judges + 1 photography in a format of your choice. It should clearly indicate the food pairing for each tea, the tea rationale, theme & other information
Recipes – the recipes for the teas & food items are also required. 4 sets each. This may be incorporated into the menu or will be provided separately
A day prior to the competition the Menus & Recipes must be emailed to hospitality@dilmahtea.com
06. COMPETITION TIMING
Teams will be split into morning & afternoon sessions held at the ICCA, Dubai - Block 8, King Salman Bin Abdulaziz Al Saud St - Al Sufouh - Dubai Knowledge Park.
The time allocated for each team for their assessment is;
Table set up ( 30 minutes)
Last minute preparation & plating ( 30 minutes)
Food and tea service presentation to the judges (45 mins)
*The 2 registered competitors are the only persons permitted to perform in the kitchen preparation and final presentation.
*Only items presented in the given time frame will be considered for evaluation.
MORNING SESSION
8.00am to 1.00pm
8.00 am – 8.30 am
Briefing

8.30am - 9.00am
First team to commence table set-up
AFTERNOON SESSION
1.15pm to 7.00pm
1.30pm - 2.00pm
First team to commence table set-up
Tea as an ingredient in a Dessert
Tea paired with a Dessert
Tea as an ingredient in a Dessert
Tea paired with a Dessert
LOW CALORIE/ ALLGERN FREE
Tea as an ingredient in a Dessert
Tea paired with a Dessert
Table Layout, Menu Design and Written Notes