SMOKED DUCK SALAD IN CHOUX PASTRY SWANS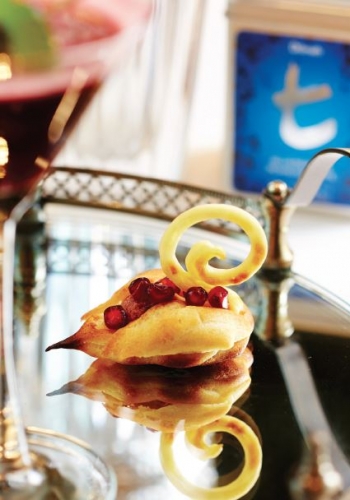 Local molecular mixology guru Antonio Lai teams up with Amanda Wan, Malaysia's Bartender of the Year 2010 (Diageo Reserve World Class Bartender of the Year for Malaysia) to create a unique and innovative experience at The Envoy. Represented by Anne Cheng & Amanda Wan.
Sub Category Name




Food




Desserts




Recipe Source Name




Real High Tea 2014/15 Volume 1



Ingredients
Smoked Duck Pâté
1 smoked duck breast
4 shallots
4 cloves garlic
Pinch of all-spice
1/2 bunch of thyme
Salt and pepper
500ml white wine
Port
Smoked Duck Salad
Smoked duck pâté
Frisee leaves
Pomegranate seeds
Chopped parsley
Choux Pastry Swans
125ml milk
125ml water
100g butter
5g salt
15g sugar
150g flour
4 eggs
Pomegranate Blueberry Reduction
1 cup pomegranate juice
1 tbsp finely chopped ginger
1 tbsp finely chopped thyme
Zest and juice of 1 orange
1 1/2 tbsp honey
1/4 tsp ground cloves
4 1/2 cups frozen blueberries
Pinch of salt
Juice of 1/2 a lemon
Pomegranate seeds
Methods and Directions
Smoked Duck Pâté
On a low to medium heat, sauté shallots and garlic till it becomes aromatic.
Add in thyme, salt, pepper and all-spice.
Deglaze with port then add white wine.
Bring stock to the boil then remove from heat.
When liquid is cooled to room temperature, marinate the duck breast in it overnight.
Blend it the next day and pass it through a fine sieve.
Smoked Duck Salad
Pipe a small mound of smoked duck pâté into the cavity of the swan's body. Top with frisee leaves and chopped parsley.
Drizzle with the blueberry and pomegranate reduction. Garnish with pomegranate seeds
Choux Pastry Swans
In a medium size saucepan, heat the milk, water, butter, salt and sugar until butter is melted and the mixture starts to boil.
Remove from heat and add in the sifted flour. Mix until it becomes a well-combined dough. Put back on heat to dry out the dough.
Mix in beaten eggs.
Pipe with a flower tip the swan bodies with tapering ends as the tails. Use a small round tip to pipe the swan necks.
Bake at 180°C until golden brown.
Cool on rack and slice one end of the swan's body top open. Split the top into halves lengthwise to form their wings. Attach the necks to the bodies with a dollop of crème fraiche.
Pomegranate Blueberry Reduction
Combine pomegranate juice, ginger, thyme, orange zest and juice, honey and cloves in a medium size saucepan over medium heat.
Bring to a simmer and cook until the mixture has reduced by half, for about 10 minutes.
Add blueberries and continue cooking, stirring occasionally, until sauce is concentrated and slightly thickened, for about 8 to 10 minutes.
Remove from heat and season with salt and lemon juice. Cool and reserve.
ALL RIGHTS RESERVED © 2023 Dilmah Recipes| Dilmah Ceylon Tea Company PLC Printed From teainspired.com/dilmah-recipes 30/09/2023
Saved to Favorites

I Made It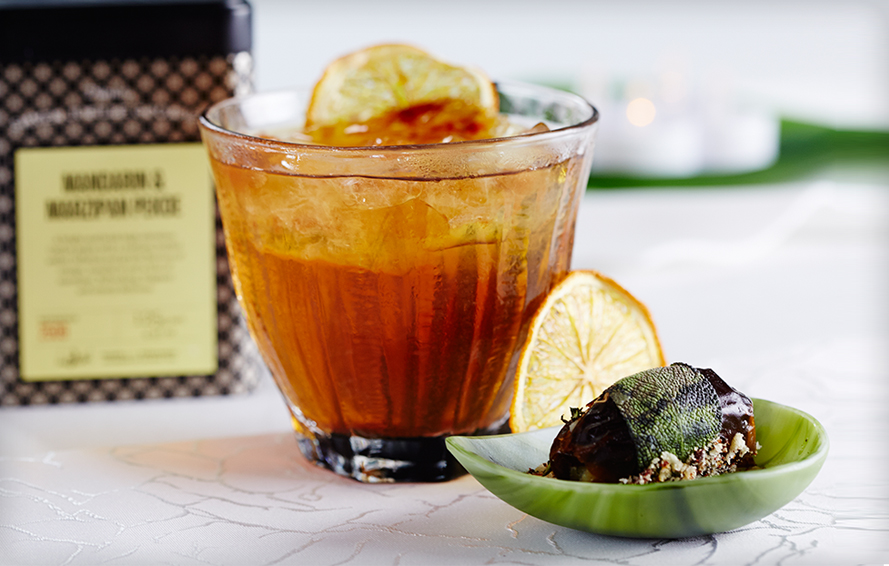 Rate and Review