DUCK TONGUE, WITH BABY LETTUCE, SPROUTS AND PINE NEEDLE GEL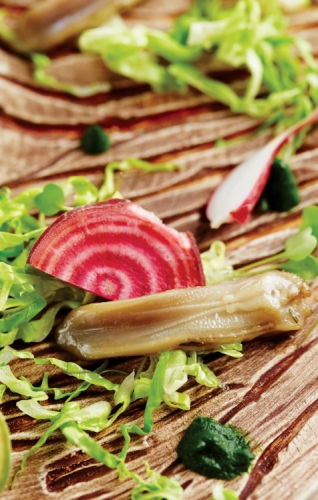 Sous-vide duck tongue is accompanied by nettle puree, baby lettuce, pine needle gel and sprouts.
Sub Category Name




Main Courses




Recipe Source Name




Dilmah Real High Tea Global Challenge 2015



Ingredients
Ingredients for Duck Tongue
1kg Duck Tongue
150g Salt
40g Sugar
50g Duck Fat
2 Twigs of Thyme
Ingredients for Nettle Puree
250ml Vegetable Stock
500g Nettle Leaves
4g Gellan Gum
2tsp Butter
Salt
Hint of Garlic
Ingredients for Pine Needle Gel
5g Gellan Gum
0.5l Water
Salt
200g Pine Needle
Methods and Directions
Duck Tongue Method
Cure the duck tongue with salt and sugar for 3 hours. Vacuum the tongue with a spoon full of duck fat. Cook it for 10 hours at 85C. Cool to room temperature. Remove the tongue from the bags and remove the bone.
Nettle Puree Method
Put the vegetable stock over medium heat and blanch the nettle for 2-3 min. Drain and reserve the stock. Then put the leaves and garlic into the Thermomix and blend to a puree.
Boil 250ml vegetable stock with Gellan gum and add it into the puree with the butter.
Season and set it aside in the fridge to cool down.
When cooled and very hard, put the puree into the Thermomix, until you get a smooth paste,and then pass it through a fine sieve.
Pine Needle Gel Method
Brew the pine needles with water, like a tea and let it infuse for 5-10 minutes.
Pass and reheat the pine needle tea to 85°C, add the Gellan gum and salt (to taste), and let it cool down.
After it is cold and hard put the jelly into the Thermomix and mix on high speed for 2 minutes, pass through sieve and fill into a squeeze bottle.
ALL RIGHTS RESERVED © 2021 Dilmah Recipes| Dilmah Ceylon Tea Company PLC Printed From teainspired.com/dilmah-recipes 06/03/2021
Saved to Favorites

I Made It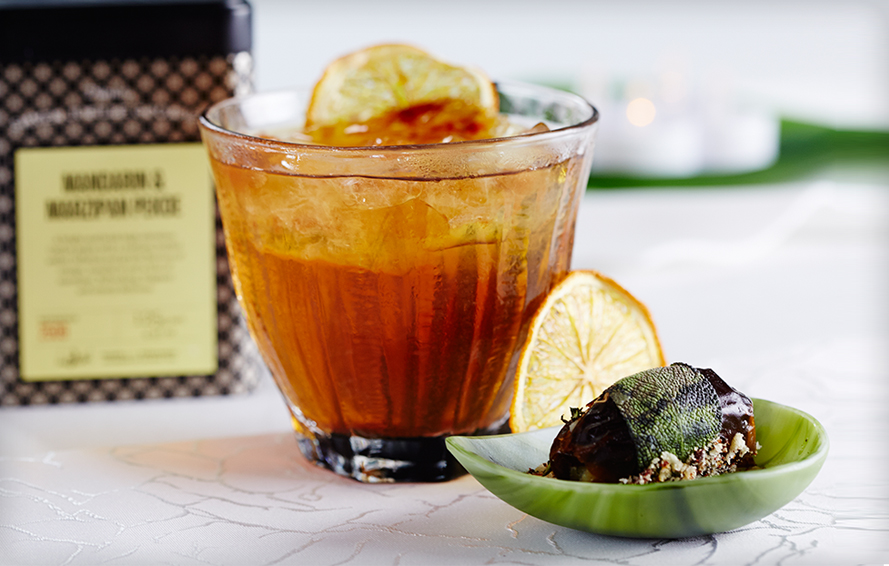 Rate and Review