Cinnamon Tea & Black Sesame Crème Brulee; Frozen Curd Lime & Lemon Tea Tart; Amaretto Laced Almond Tea
Ingredients
Cinnamon Tea & Black Sesame Crème Brulee
10g Dilmah Cinnamon Tea
5 Egg yolks
5 Egg whites
200g Sugar
2 Vanilla sticks
250ml Milk
750ml Fresh cream
5g Black sesame paste
20ml Brandy
Frozen Curd Lime & Lemon Tea Tart
4 Egg yolks
150g Sugar
250ml Milk
250g Fresh cream
250g Curd
Ingredients for The Sugar Dough (for The Tart Shell)
1 teaspoon Dilmah Vanilla Tea
300g Flour
100g Sugar
200g Butter
½ teaspoon Lemon Zest
Ingredients for Lemon Curd Filling
3 Egg yolks
175g Sugar
200g Melted butter
30ml Lemon Juice
Amaretto Laced Almond Tea
10g Dilmah t-Series Italian Almond Tea
20ml Amaretto Liqueur
200ml Water
50ml Fresh cream
30ml Sugar
Methods and Directions
Cinnamon Tea & Black Sesame Crème Brulee
Boil the milk with the tea.
Add fresh cream and sugar.
Mix in the egg yolks and whites into the mixture.
Beat the mixture slightly with the black sesame paste.
Cook at 150°C for about 50 minutes.
Sprinkle the top evenly with sugar and place under a grill until the sugar has caramelized.
Frozen Curd Lime & Lemon Tea Tart
Boil the milk and add the sugar.
Add the egg yolk and mix well.
Cook the mixture for a short while.
Beat the fresh cream and add into the mixture. Mix slightly.
Add the curd and mix well.
Pour the mixture into an ice cream machine.
Method of Preparation for Lemon Curd Filling
Mix the eggs and sugar.
Place the mixture on a double boiler until the sugar is dissolved.
Add the melted butter and the lemon juice. Cool the mixture.
Amaretto Laced Almond Tea
Brew the tea, strain and add the sugar.
Add Amaretto and fresh cream and serve in a glass.
ALL RIGHTS RESERVED © 2021 Dilmah Recipes| Dilmah Ceylon Tea Company PLC Printed From teainspired.com/dilmah-recipes 02/03/2021
Saved to Favorites

I Made It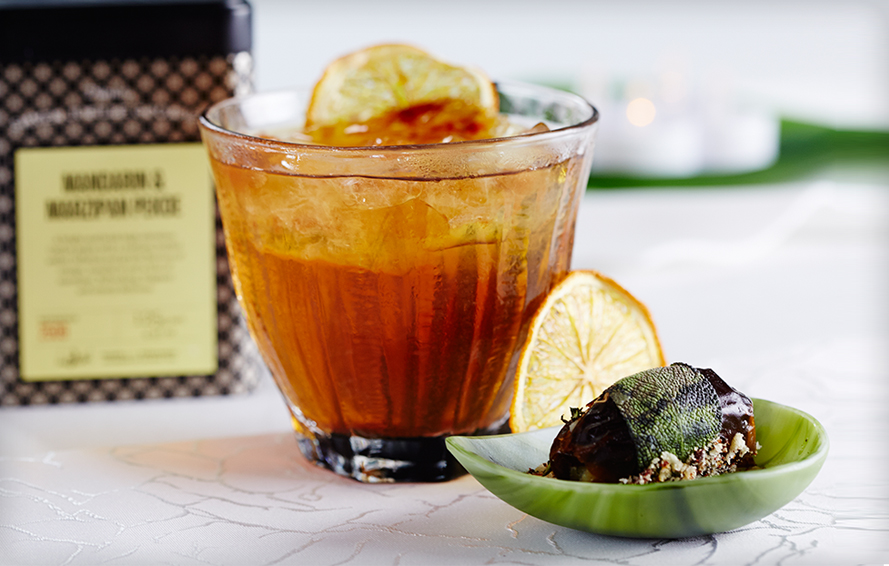 Rate and Review