A TENDER REVERIE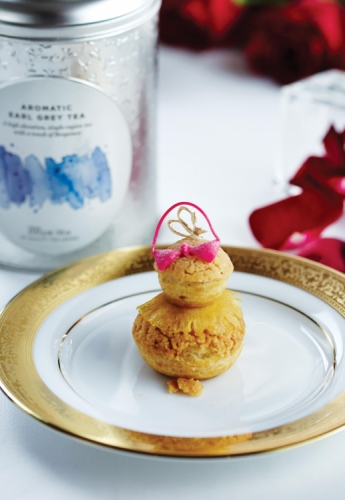 Mulwarra Lamb braised in Dilmah Aromatic Earl Grey Tea. Bergamot in the tea has therapeutic properties and adds a touch of floral hints to the savoury lamb and filo pastry.
Sub Category Name




Savory




Recipe Source Name




Dilmah Real High Tea Global Challenge 2015



Ingredients
Lamb Filling
100g Lamb
25g Onion
10g Garlic
200ml Lamb Stock
200ml Earl Grey Tea Brewed
10ml Brewed Earl Grey Tea, reduce to essence
08 Filo Pastry Sheets
Mashed Potato
100g Potato
50g Butter
1 Bay Leaf
25ml Milk
25ml Cream
Salt to taste
Pepper to taste
Green Pea Bubble
50g Green Peas
Salt to taste
White Pepper to taste
125g Gluconolactat
5g Alginate
1L Water
Methods and Directions
Lamb Filling
Season the lamb with salt and pepper, and seal it.
Add onion and garlic to a pan with oil and sauté for a while. Add brewed Earl Grey Tea and essence. Reduce to half.
Add lamb stock. Marinade the lamb in this mix and bake in the oven at 160°C for 45 minutes.
Cut the filo in to squares and fill in to a mould filled with lamb ragout and baked in the oven.
Mashed Potato
Boil potatoes and mash it by using a potato masher and pass through a sieve. Boil cream and milk together, add mash potatoes and mix to a smooth pulp, finally mount with butter and season.
Green Pea Bubble
Boil Green Peas and Puree it, and pass it through. Return to pot and add Gluconolactat, mix well and fill into a Silicone mould. Blast freeze. Mix the alginate and water. Dip the frozen Green Peas into the solution. Leave for a few minutes and return to a flavoured stock.
ALL RIGHTS RESERVED © 2021 Dilmah Recipes| Dilmah Ceylon Tea Company PLC Printed From teainspired.com/dilmah-recipes 18/05/2021
Saved to Favorites

I Made It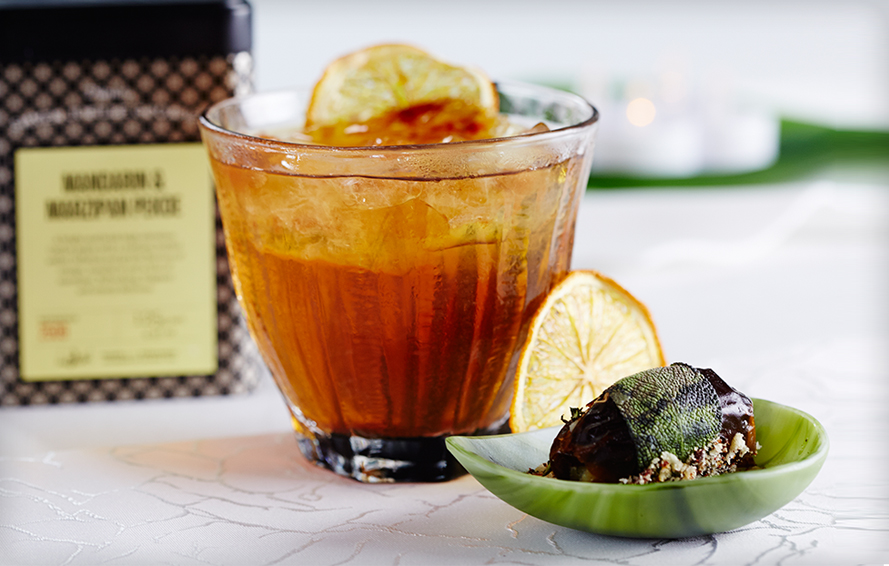 Rate and Review